Find the full advertising strategy here.
I conducted a brand study on Reformation, a sustainable fashion company. I analyzed Reformation's target audience and brand framework to create effective display advertisements for several websites and blogs. The visual elements and copy are intended to inform the audience on Ref's commitment to sustainability, in addition to reinforce the brand's contemporary and feminine personality. 
The display ads are driven by two strategic objectives: 
1.  Increase awareness on Reformation's sustainability practices by 15%.
2. D
rive spring collection sales by 5%. 
After the o
bjectives were set, 
two we
bsites and three blogs were chosen for Reformation to display their ads on. These platforms appeal to the brand's fashion-forward and eco-friendly consumers.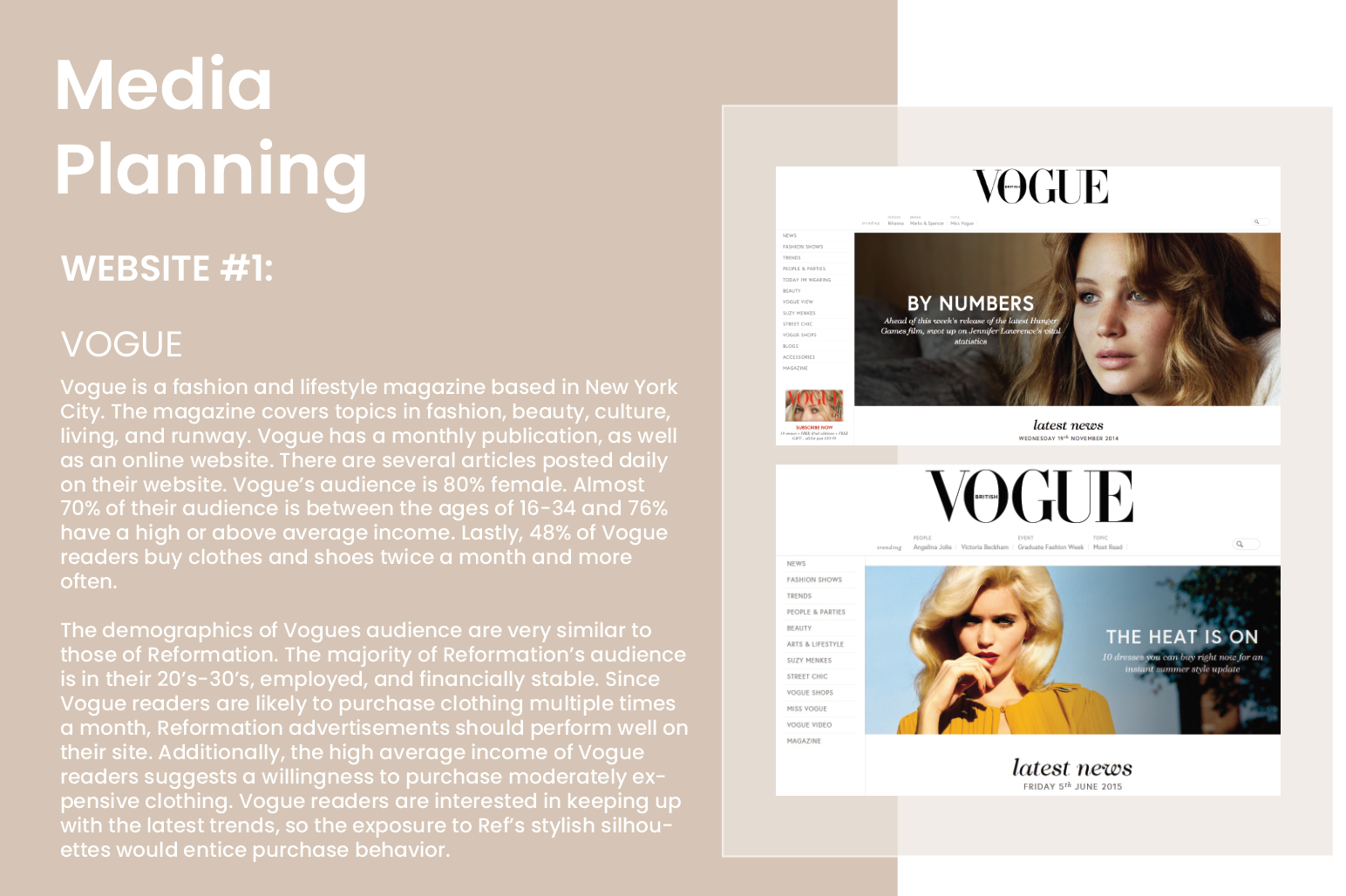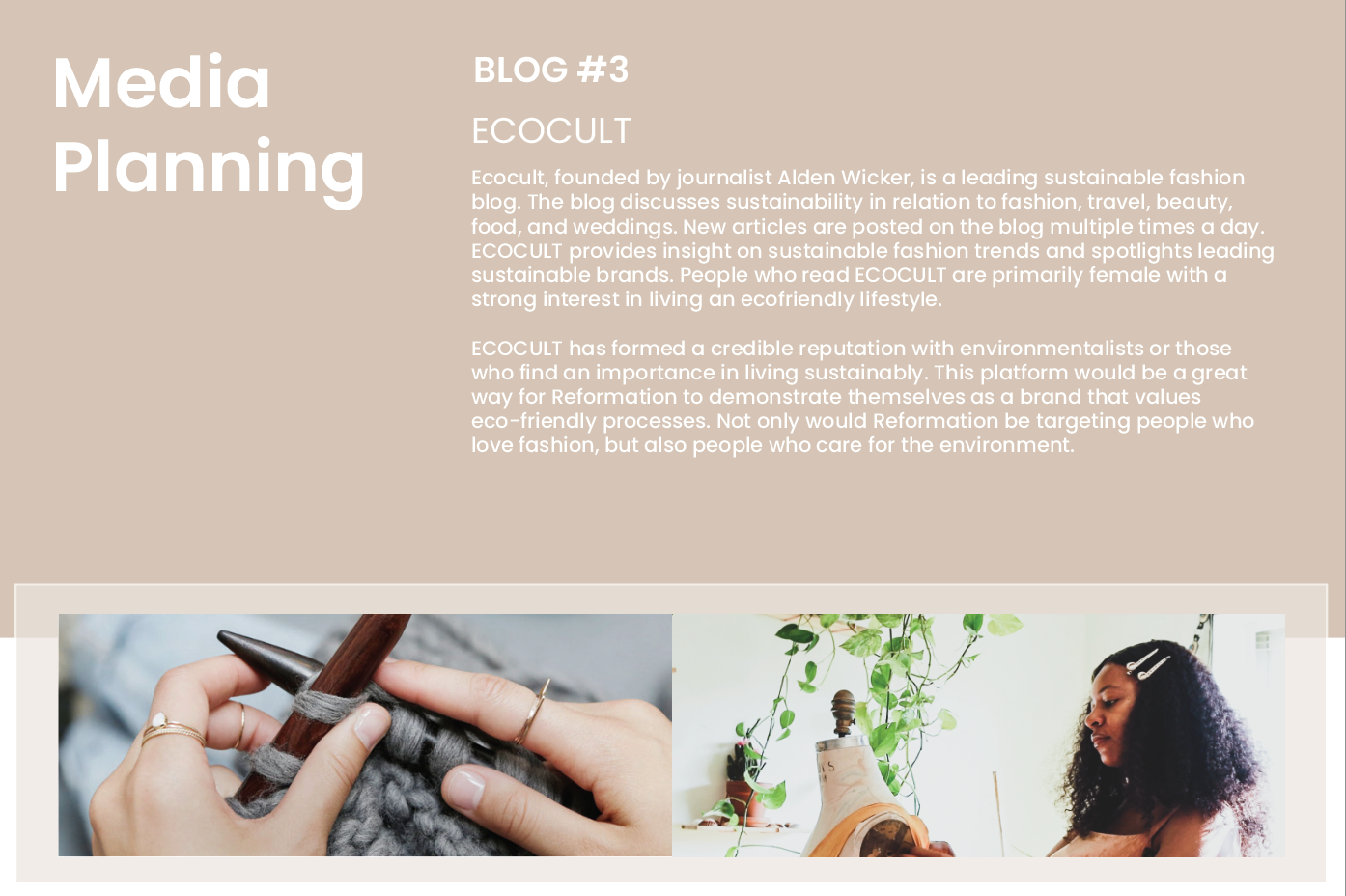 Next, the design and copy of the display were created.

The first series of advertisements will be web banners designed to increase awareness on Reformation's sustainability practices by 15%. It is vital for potential consumers to understand their commitment to sustaina

ble practices.

 
The target audience is environmentally conscious women in their 20's or 30's. 
These web banners will be positioned on ECOCULT and WHO WHAT WEAR. The advertisements will reach the appropriate audience on the popular environmental blog and style website.
The advertisements will have a muted color palette, bold text, and a captivating graphic. They will include a captivating fact about Ref's sustainability practices and call-to-action to read more about their environmental impact on their website.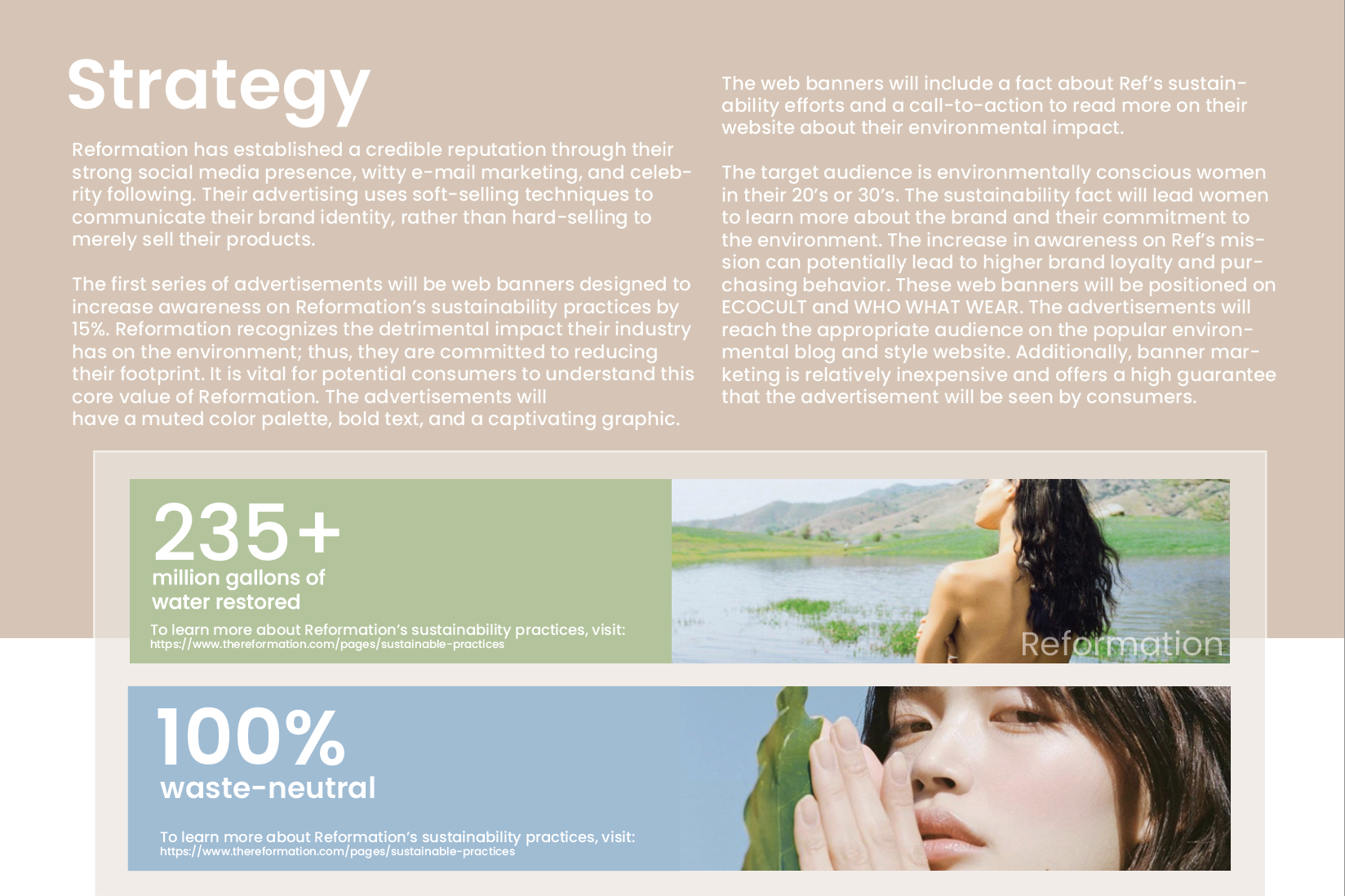 The second series of advertisements will be vertical rectangles to appear on the side of blog or website content. These creative advertisements are designed to drive spring collection sales by 5%. The target audience is women in their 20's and 30's who are interested in keeping up with style trends and willing to invest in quality clothing. The rectangle display ads will be seen on by Tezza, We Wore What, and Vogue. Reformation does not use hard-selling techniques, so there will be no mention of price. Instead, the spring silhouettes will be highlighted through captivating images. The typography will include witty messages to grasp the attention of potential consumers. These advertisements will include a call-to-action prompting a person to shop the spring arrivals through a link.